FOR IMMEDIATE RELEASE – October 24, 2019
Media Contact: Emily Rothrock Tate
Phone: 405-605-9236
Email: emily@calmwaters.org
Calm Waters Hosts FREE Winter Grief Workshop in Yukon
Saturday, Nov. 9, 2 to 4 p.m.
First United Methodist Church of Yukon
400 Elm Avenue, Yukon, OK 73099
Oklahoma City, OK – Calm Waters Center for Children and Families, the only grief center in Central Oklahoma offering free grief support services to children and families, will host a free Winter Grief Workshop, on Saturday, November 9, 2 to 4 p.m., at the Yukon First United Methodist Church, 400 Elm Avenue and is sponsored by Yanda & Son Funeral Home and Cremation Services.
Calm Waters' Winter Grief Workshop is a free event to help children, adults, and families prepare for the holiday season and cope with the death of a loved one or a recent family separation due to divorce, deployment, deportation or incarceration.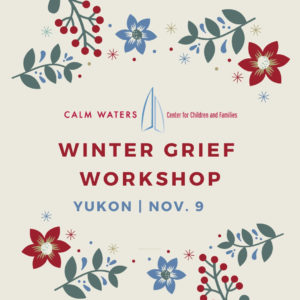 "For many children,  this is their first Thanksgiving with Mom and Dad in separate houses and for other families, it's their first Christmas since Grandma died and it's difficult to organize expected family events," said Heather Warfield, LMFT, Calm Waters' Program Director. "Our Grief Workshop allows hurting families to learn new ways to manage loss during a time of year that holds high expectations for joy and togetherness."
Calm Waters' on-staff therapists will lead a holiday-focused curriculum to help the entire family navigate loss and change through concurrent adult and children's activities and micro-support groups with each experience providing tools to cope with loss during a time of year that is usually filled with joy. The end-goal for attendees is to learn how to grieve together while honoring holiday traditions and memories.
Register by November 7 at https://www.calmwaters.org/grief-workshop
About Calm Waters Center for Children and Families
Calm Waters Center for Children and Families provides FREE grief support services for children and families on their grief journey caused by death, divorce or other significant loss. Since beginning in 1992, Calm Waters has served more than 40,000 individuals across the Greater OKC Metro Area through their Center and School Support Groups. For more information about Calm Waters and their services, visit Calmwaters.org or call 405-841-4800. Calm Waters is a proud United Way of Central Oklahoma Partner Agency.