FOR IMMEDIATE RELEASE – April 17, 2020
Media Contact: Emily Rothrock Tate
Phone: 405-605-9236
Email: emily@calmwaters.org
OKC's Grief Support Center Offers FREE Workshop for Mental Health Professionals
Registration open until 5 p.m., April 22
Oklahoma City, OK – Calm Waters Center for Children and Families, the only grief center in Central Oklahoma offering free grief support services to children and families, will host an online workshop, "Helping Clients through Grief and Loss," specifically for mental health professionals, on Thursday, April 23, from 10 to 11:30 a.m.
Thursday's workshop, led by Calm Waters' Program Director, Heather Warfield, LMFT, and Calm Waters' Assistant Program Director, Jordan Park, LMFT-candidate, will discuss a clinician's overview of grief and loss across one's life experience. Warfield and Park will de-bunk grief myths, highlight grief experiences and provide clinical techniques relevant to the current COVID-19 pandemic so that other mental health professionals can help present and future clients through their unique grief journey.
"We received such an overwhelming response from our past online workshop about life and loss during COVID-19 and quickly realized there was more we could do to support our own mental health industry while still working from our homes," said Erin Engelke, executive director of Calm Waters. "While this presentation is geared toward mental health professionals, it will also benefit anyone wanting to increase their knowledge of grief and loss and how to help others."
Register online by April 22, 5 p.m. at https://www.calmwaters.org/helping-clients-through-grief-and-loss-workshop/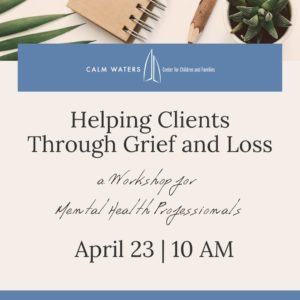 About Calm Waters Center for Children and Families
Calm Waters Center for Children and Families provides FREE grief support services for children and families on their grief journey caused by death, divorce or other significant loss. Since beginning in 1992, Calm Waters has served more than 45,000 individuals across the Greater OKC Metro Area through their Center and School Support Groups. For more information about Calm Waters and their services, visit Calmwaters.org or call 405-841-4800. Calm Waters is a proud United Way of Central Oklahoma Partner Agency.