gtag('config', 'UA-119795409-1');
What is it?
In partnership with New York Life, Calm Waters is proud to present Developing a Plan for Financial Security, a mini series focused on preparing and planning for you and your families future before a loved one dies.
What will you learn?
Death is inevitable but protecting your loved ones and their future is something you can help plan. Help protect those who rely on you the mot by exploring the options within financial planning.
Participants can expect to leave with information regarding:
Basic fundamentals of financial planning
Understanding the importance of planning & saving for your future and how to start
Learning how insurance plays a role in the foundational elements of your plan
When is the class?
Thursday, November 8th from 6 – 7:30 p.m.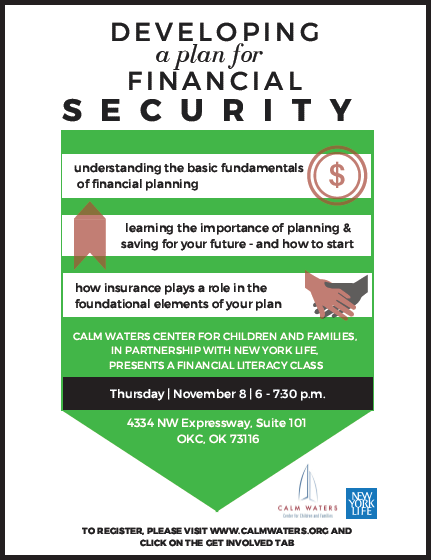 Where will the class take place?
Developing a Plan for Financial Security will take place at Calm Waters' Center located at 4334 NW Expressway, Suite 101, Oklahoma City, OK  73116
How do I register for the class?
Registration is free but is required in order to hold your spot in the class. Please click the Register Now button below.
Register Now