FOR IMMEDIATE RELEASE – June 15, 2022
Media Contact: Abby Sholar
Phone: 405-841-4800
Email: abby@calmwaters.org
Calm Waters Offers 'Grief Support Workshop' for Those in Grief and their Support People
How to Support a Grieving Loved One | Thursday, July 14, 6 to 7:30 p.m.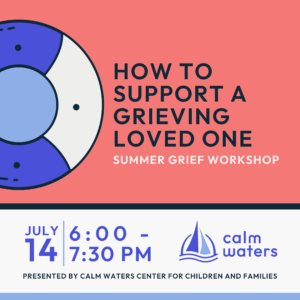 Oklahoma City, June 15– Calm Waters Center for Children and Families, the only grief center in Oklahoma City offering free grief support services to children and families, will host a free workshop on Thursday, July 14, 6 to 7:30 p.m. at their Center located at 501 N. Walker Suite 140 in Oklahoma City.
Calm Waters' summer grief workshop, "How to Support a Grieving Loved One," is a free, in-person, hands-on event at Calm Waters Center for those in grief to learn about expressing their needs to their support people and for support people to learn how to best serve their grieving loved one. Through this workshop, Calm Waters will educate the support people about grief so the griever does not have to, while also helping those grieving establish boundaries and coping skills to help them on their grief journey.
"Grief is challenging to navigate, not only because of the emotional pain that individuals endure, but also the ways it impacts our relationships," said Heather Gaglio, LMFT, Calm Waters Clinical Director. "People do not often know how to support their friends and family after a loss. Well-meaning people often end up saying or doing things that result in additional sadness or hurt. Those who are grieving are often just surviving and do not know how to respond to communicate their needs and set boundaries with their well-intentioned friends and family. This workshop will provide tools for both those who have lost a loved one as well as their support systems navigate the difficult times after loss."
The July 14th workshop, led by Hannah Showalter, LMSW, and Kasydee Molina will facilitate grief conversations for adults and children as young as 3 years old, to learn coping and boundary-establishing skills for those in grief, as well as best practices for grievers' support people. At Calm Waters, we serve those who are experiencing grief due to death, divorce, deportation, incarceration, deployment and foster/adoptive loss.
Register by July 10, 5 p.m. at calmwaters.org/2022-summer-grief-workshop/
About Calm Waters Center for Children and Families
Calm Waters Center for Children and Families provides FREE grief support services for children and families on their grief journey caused by death, divorce or other significant loss. Since beginning in 1992, Calm Waters has served more than 50,000 individuals across the Greater OKC Metro Area through their Center and School Support Groups. For more information about Calm Waters and its services, visit Calmwaters.org or call 405-841-4800. Calm Waters is a proud United Way of Central Oklahoma Partner Agency.