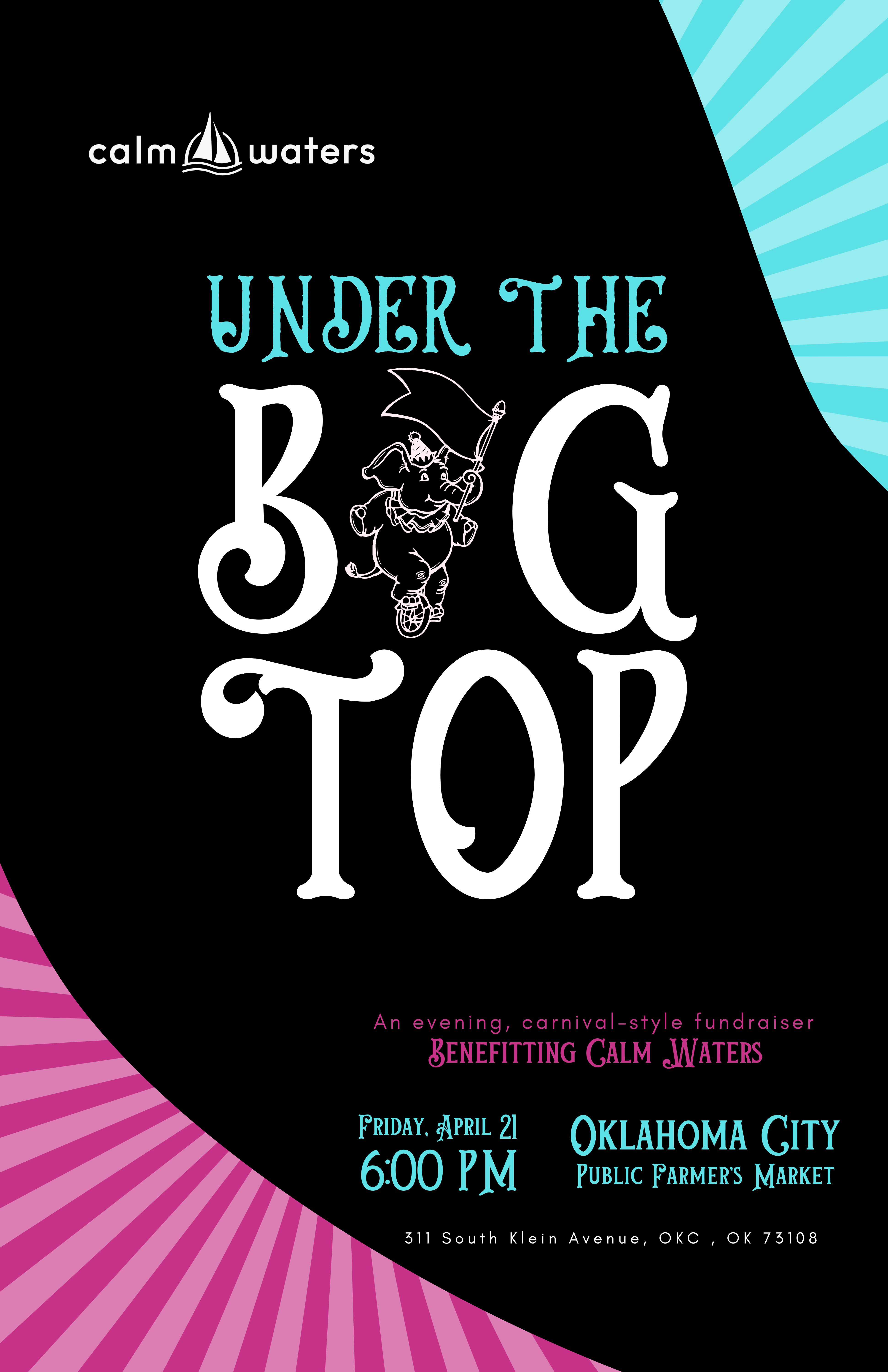 Under the Big Top
Calm Waters' annual carnival-style evening fundraiser occurs each spring and raises about $100,000 for Calm Waters programs.
Friday, April 21, 2023, 6 to 10 p.m.  |  Adults Only
Oklahoma City Farmer's Public Market Building | 311 South Klein, OKC, OK 73108
This one-of-a-kind event includes your favorite carnival experiences such as Plinko, BalloonPop, Hole-in-One, a Punch Wall, and Deck of Cards, as well as a live magician, aerialists, stilt-walkers, jugglers, a wine pull, a jewelry draw, and a raffle.
Purchase a game card for a chance to win amazing prizes! Game prizes are $10 to $100 gift cards to your favorite OKC businesses. Game cards are available for purchase to play carnival games, with a 1 in 4 chance to win.
The event dress is cocktail and snappy casual!
Sponsorships between $10,000 and $500 are available.
I want to be an Under the Big Top Sponsor!
Sponsorship Opportunities
Under the Big Top sponsors will receive numerous fantastic benefits! Sponsorship levels are Ring Master, Aerialist, Trapeze Artist, Strong Man and Patron. All sponsorship levels help create an over-the-top event.
Download the Sponsor Chart
Support Calm Waters
All proceeds benefit Calm Waters programming! Your support will directly fund grief and divorce support groups and more. Join us as an Under the Big Top Sponsor and be part of the best fundraiser of the year.
Secure Your Sponsorship
Help Us Wow the Crowd!
Want to be an Under the Big Top Volunteer? Sign Up today! Volunteers will be required to work a minimum of one shift for either set-up, during the event or tear-down. To thank you, volunteers will receive free entry into Under the Big Top, including food and drinks!
Volunteer at Under the Big Top
Shift 1: Set Up
April 21, 9 a.m. – 12 p.m.
Tasks include unloading staff vehicles and making several trips transporting supplies up freight elevator, assembling and carrying bistro tables, rearranging tables and chairs, taping down extension cords, setting up the registration table, place game supplies at each game stop. Blow up 100 balloons, etc.
Shift 2: Set Up
April 21, 11:30 a.m. – 2:30 p.m.
Tasks include placing 30 table cloths on rounds, bistros and rectangle tables, assembling and place table décor. Hanging event signage, assembling games as needed. (pinning balloons to corkboard, wrapping punch wall cups with tissue paper, etc.) artfully set-up raffle tables, etc.
Shift 3: Event Production
April 21, 5:30 p.m. – 10:00 p.m.
Tasks include manning the carnival games, checking in event guests, selling game tickets and helping where needed.
Shift 4: Tear Down
April 21, 9:30 p.m. – 11:15 p.m.
Tasks include tearing down game booths, stripping linens from tables, clearing trash and dismantelling balloon arch.